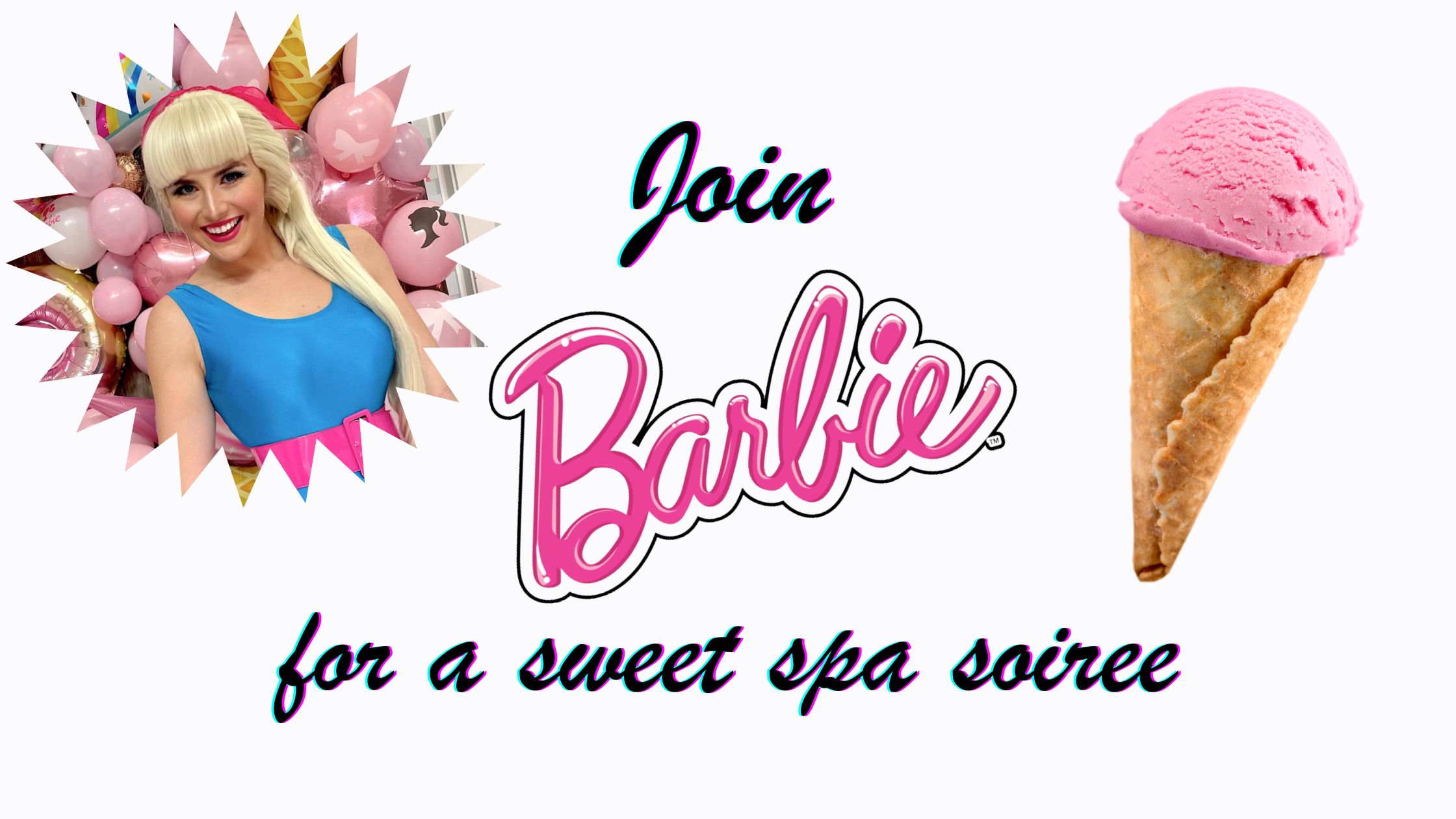 By wpadmin In Special Events, Uncategorized
Hear ye! Hear ye! Tampa's finest, Dairy Joy, is about to get a glamorous makeover! If you've ever dreamed of enjoying a delectable ice cream sundae while Barbie sprinkles a dash of glitter on your day, clear your calendar for Sunday, August 6th.
Parties With Character is thrilled to announce a unique, one-of-a-kind event where the iconic Dairy Joy ice cream parlor in South Tampa transforms into a fabulous pop-up Barbie Spa. Yes, you read it right! A spa visit with Barbie right here in Tampa. We've also teamed up with Purple Box Mobile Kids Spa to ensure you receive the royal treatment.
Get ready to strut your stuff down the pink carpet, snap an Insta-perfect Polaroid with Barbie, and bask in the glow of your very own makeover, all while savoring Dairy Joy's delicious ice cream treats. But the fun doesn't stop there. You'll also get to craft your own keepsake friendship bracelet – a perfect reminder of this extraordinary day.
Now, let's dish out the details! From 11 am to 1 pm, Purple Box Mobile Kids Spa will turn Dairy Joy into a glam station. Our stylists will doll you up in the latest Barbie style, ensuring you're pink-carpet ready for your big entrance.
After your fabulous makeover, you'll join the party with our Barbie (fresh from her latest movie!) She's super excited to meet everyone, share some stories, and pose for all those must-have photos.
What's more? You'll also get to enjoy Dairy Joy's famous ice cream – a treat fit for any princess, queen, or, indeed, a Barbie Girl!
The beauty of this event? Tickets are just $30, including your spa visit, hair accessory, friendship bracelet, keepsake Polaroid photo, ice cream treat, and a truckload of fun! Trust us; this is the sort of ice cream social you'll be talking about for years to come.
So, if you're as excited about this event as we are, it's time to get moving. Whether you're a fan of Barbie, a sucker for makeovers, or just love a good ice cream, this event is designed with you in mind.
Don't delay, secure your spot, and prepare to live out your Barbie dream. Tickets are on sale now, and they're selling like hotcakes – or should we say, like Dairy Joy's ice cream on a hot summer day!
Let's make it a day to remember, shall we?
See you there, Tampa!
To grab your tickets, CLICK HERE!
Don't miss out – secure your spot for Tampa's most glamorous ice cream social today!