Princess Beauty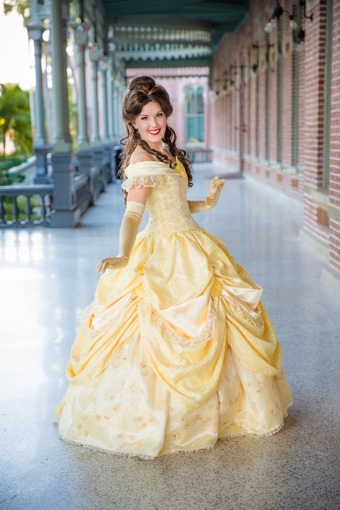 Be our guest! Our Princess Beauty is derived from the tale as old as time, Beauty and the Beast. She can sing, she can dance, after all she is from France! Sing along with our Princess Beauty at your next celebration. She will arrive in a grand, golden ball gown, ready to tell her tale of a beast, a castle, and the truest form of beauty. She teaches to not judge a book by it's cover, and instead of waiting for your adventure to begin, get out there and find it! Whether its a birthday, celebration, fundraiser or just because, she will be the Belle of the Ball!
Our beautiful performers are hand-selected, music theater professionals who provide the most authentic singing character experience.  When Beauty makes a grand entrance to your event, you will believe she stepped right out of the storybook!
What can I expect at my event?
Grand entrance
Individual and group photo opportunities
Sing-a-long with the Beauty (with all of our packages except the Pop-in)
Royal coronation where birthday child is presented with a crown and princess proclamation scroll (with all of our packages except the Pop-in)
Story time or Dance party with Beauty (with our Crown Jewels package)
Assistance with "Happy Birthday" song and cake cutting by Beauty
We invite you to visit our princess party packages page to find the perfect fit for your event!
To reserve Beauty, visit our book a party page  or call us at (813) 800-9474 (WISH).